Licensed in
RHODE ISLAND & MASSACHUSETTS
For help with these or any other legal issues, please call our firm today. The information contained in this website is intended solely for your information. It does not constitute legal advice, and it should not be relied on without a discussion of your specific situation with an attorney.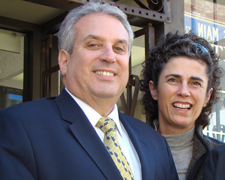 AREAS OF PRACTICE
In the News
6/2009

Commonwealth v. Ronald Gonsalves
Where a defendant has been convicted of operating under the influence of intoxicating liquor, fourth offense, we hold that the conviction must be reversed because of the erroneous admission at trial of (1) the defendant's prior OUI convictions and (2) his postarrest silence.

Commonwealth v. Gonsalves (Lawyers Weekly No. 11-092-09) (5 pages) (Rescript) (Appeals Court) Case tried before Dinneen, J., in the District Court. Karen Augeri Benson for the defendant; Gail M. McKenna for the commonwealth (Docket No. 07-P-2003) (June 5, 2009).



2/2006

Karen Augeri Benson, of the Law Office of Alan A. Amaral in Fall River, has joined the Taunton River Watershed Alliance as a staff member. Benson has experience in litigation environmental matters and will continue in private practice.



4/2005

(Massachusetts Lawyers Weekly "Most Important Cases of 2005")Where an indigent defendant moved for an order requiring the commonwealth to pay the costs of service of two subpoenas duces tecum.

Commonwealth v. Carreiro (Lawyers Weekly No. 13-015-05) (4 pages) (Welsh, J.) (Appellate Division, Southern District) Motions for payment heard in the Fall River Division. Karen Augeri Benson for the defendant; (App. Div. No. 1614M)



11/23/2004

National Philanthropy Day
Karen Augeri Benson honored by Save the Bay for her leadership as President of the Board of Directors, through her hard work, long hours and limitless enthusiasm.