Licensed in
RHODE ISLAND & MASSACHUSETTS
For help with these or any other legal issues, please call our firm today. The information contained in this website is intended solely for your information. It does not constitute legal advice, and it should not be relied on without a discussion of your specific situation with an attorney.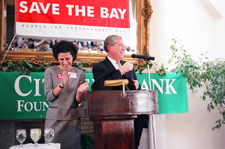 AREAS OF PRACTICE


Notable Examples of
Environmental Litigation:
1) Save the Bay v. City of East Providence – RI Federal District Court RINPDES violations – Point source Waste Water Treatment Plant overflows.
2) Save the Bay v. RI Airport Corporation – RI Federal District Court RINPDES violations – Point source discharges from airport deicing operations.
3) Jones River Watershed Association et als v. COMMONWEALTH OF
MASS. DEPT. OF FOOD AND AGRICULTURE STATE RECLAMATION AND
MOSQUITO CONTROL BOARD, Plymouth County SUPERIOR COURT C.A. NO. 2006-00922.
4) Pina v. Collins et als – Mass. Land Court - Defense of private party water use dispute. Issues included control of stream flow from a historical dammed ice pond.
5) Charlie's Oil Co., v. Frank Corp et als, BRCV2005-01156-A
Defense of M.G.L. c. 21E contribution action.
6) Coalition for Buzzards Bay et als v. Pimental – Concentrated Animal Feed Lot operation polluting tidal coastal river
Environmental Law and Land Use
Do you need to appear before the local Zoning Board, Conservation Commission or other regulatory body? We can help. We are prepared to work on your environmental matters in Rhode Island and Massachusetts. Attorney Karen Augeri Benson has more than 15 years of experience in the area of land use law. Our ability to serve our client's needs is based on this experience as well as a diverse set of specialized skills, for example;
Karen served on the Zoning Board of Appeals in Newport, Rhode Island; She initiated major Clean Water Act litigation in Rhode Island Federal District Court, including representation of Save the Bay to halt pollution by the Rhode Island Airport Corporation, and the City of East Providence.
More recently our firm has represented Massachusetts non-profits such as the Taunton River Watershed Alliance and the Jones River Watershed before local Planning Boards and in state court. We represent property owners who need wetlands permits. We represent abutters who object to proposed construction or development activity.
All environmental and land use matters benefit from our unique background and philosophy. We fight to ensure that a proposal has minimal environmental impacts and we are not afraid to challenge state or municipal government to accomplish this goal.
That being said we also believe that property owners should be able to obtain the necessary permits with out undue delay and will focus our energy to see that you are able to achieve your plans. Having worked in the shipbuilding industry Karen has a particular interest and affinity for assisting business owners with managing their environmental matters. Whether you have 21E issues, waste water treatment permits or other state and federal regulatory matters we want to help you. A sample of our satisfied business clients include; farms, service station owners, plowing companies, and auto dealers.
If you have received a Notice of Noncompliance or other regulatory notice please call today. We can help you to decipher a multitude of regulations and laws, whether they govern hazardous materials, wetlands or construction issues.



KAB planting eelgrass at the Save the Bay Headquarters.
Environmental Law for Small Businesses

Are you the owner or operator of a small business? Are you considering starting a new business? Savvy corporations include environmental compliance and environmental permitting in their bottom line. In the Commonwealth of Massachusetts there are a myriad of environmental laws that potentially impact business endeavors, whether it is a major corporation or a mom and pop gas station. By including environmental matters as an anticipated expense, companies adopt a philosophy that allows them to operate their businesses economically within the letter of the law. To avoid compliance problems, businesses need to be informed on the current status of environmental regulations. We can help.
The Commonwealth of Massachusetts Department of Environmental Protection (DEP) is divided into regions. The Southeast Regional Office, located in Lakeville, covers the areas of Barnstable, Bristol, Dukes, Nantucket and Plymouth Counties, as well as a portion of Norfolk County. DEP is responsible for enforcing the Massachusetts Wetlands Protection Act, the Massachusetts Water Quality Certification Program, and the Federal Water Pollution Control Act. This latter act includes discharge permits, also known as NPDES permits. Such permits are required whenever a facility intends to discharge effluent into a receiving body of water. The Massachusetts Clean Waters Act applies to ground waters, as well as surface waters.



KAB with Curt Spaulding (now @ EPA Region 1).
To protect drinking water and ground water supplies, Massachusetts enacted Title V, a 1994 revision of the Massachusetts Environmental Regulations, which requires inspection of septic systems whenever property is transferred. Although Title V is primarily an issue with residential property, it can impact a business's decision to locate on a commercial parcel. Purchasers must be alert to the effects of Title V with regard to locating their businesses, in particular, if they are in a town without a comprehensive municipal sewer system. The enforcing authority for Title V is the local Board of Health, but DEP retains overlapping jurisdiction. *The above applies Massachusetts residents only.
Please contact our office for more information. We can provide guidance to businesses who encounter environmental compliance matters in the course of their operations.