Licensed in
RHODE ISLAND & MASSACHUSETTS
For help with these or any other legal issues, please call our firm today. The information contained in this website is intended solely for your information. It does not constitute legal advice, and it should not be relied on without a discussion of your specific situation with an attorney.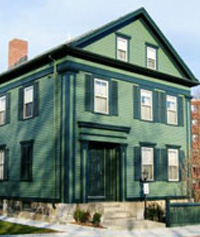 Our neighborhood,
Lizzie Borden House

Our neighborhood,
St. Mary's Cathedral
Contact
DIRECTIONS TO:
KAREN AUGERI BENSON, ESQUIRE
LAW OFFICE OF ALAN A. AMARAL
226 SOUTH MAIN STREET, SUITE #6
FALL RIVER, MA 02721

508-676-0011


508-674-3488

legalassistant226@gmail.com

Route 195 West from Cape Cod/Rhode Island:
Take Exit 7; at the foot of the exit, you will see Route 81. Make a LEFT onto Route 81 South, go under the highway, get into the RIGHT lane. At the second light, which is Rodman Street, you will take a RIGHT. Go up the hill, through one stop sign and at the second stop light, take a RIGHT onto Second Street. Go one block and take a LEFT onto Spring Street. On Spring Street, as you start to go down the hill you will see our building on your RIGHT. The back entrance to our building is 400 Spring Street. Please park in the spaces designated for guests.
Route 195 East from Providence:
Take the Downtown Exit, take the exit for Hartwell Street. At the stop sign at the end of the exit you will go LEFT onto Hartwell Street. At the end of Hartwell, you will see Rodman Street. Take a RIGHT onto Rodman Street and follow the directions as above.